We proudly craft our cider in our state-of-the-art cider production facility amidst 7,500 acres of apple orchards, in the heart of apple country. Using only the finest apples these orchards have to offer, we have created premium, easy drinking, crisp, and refreshing ciders that tantalize the palette.
Thornbury Premium Apple Cider
Thornbury Premium Cider is a truly original Canadian cider that tastes like a traditional English cider: dry, crisp and premium. It's made with 100% fresh-pressed local apples (not from concentrate) and is cold filtered to maintain maximum flavour and aroma. Great news for those with gluten sensitivity, Thornbury Premium Apple Cider is 100% gluten free. This cider is best served chilled, with or without ice.
Relish in the all-natural bright red colour of our Thornbury Premium Cranberry Apple Cider! Exceptionally balanced with natural sweetness and tartness, enjoy this unique specialty cider over ice.
Made using 100% Canadian Apples and Cranberries.
Wild Blueberry Elderflower Apple Cider
This refreshing cider has aromas of elderflower, passionfruit and blueberry notes. Blueberry flavour comes from wild Nova Scotian blueberries creating a cider that is both delicate and flavoursome with a lingering blueberry finish.
Thornbury Craft x The Tragically Hip Road Apples Cider
In 1991, Canadian Rock icons The Tragically Hip released their second studio album: Road Apples. To commemorate the album's 30th anniversary, band members collaborated with Thornbury Craft in creating a dry, Canadian cider.
Blood Orange Apple Cider is full bodied with blood orange and tropical juice notes followed by a smooth zesty orange finish. The nose is sweet with zesty orange, tropical and citrus aromas.
Available at the Thornbury Cider & Brew House
A winning blend of our Premium Craft Cider and Canadian red wine, our Rosé Cider is soft coral pink in colour. Welcoming notes of fresh raspberry on the nose are followed by flavours of red berry and apple. Silky smooth, it finishes with just a hint of crispness. This fantastic cider is versatile in all its deliciousness – a great fit for aprés ski or relaxing on the patio.
Available at the Thornbury Cider & Brew House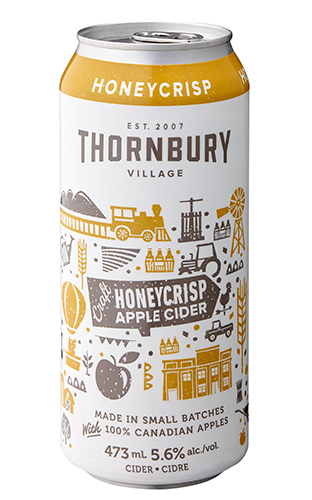 Full-bodied, yet delicate and very smooth, our Honeycrisp cider is the Holy Grail of cider-making. Our Cider Master has created this cider with minimal carbonation to allow the subtle flavours of the Honeycrisp apple to take centre-stage. An initial impression of honey is followed by a smooth but lightly crisp and dry finish.
Available at the Thornbury Cider & Brew House
A vibrant bright red in colour, our Raspberry Apple Cider features inviting aromas of fresh-picked raspberries. It's juicy berry-bomb balances nicely with a delightful tartness leaving a pleasant tingle on the finish. It's a perfect combination with warm Spring weather and fresh growing flowers.
Available at the Thornbury Cider & Brew House
Our limited edition Thornbury Spiced Apple Cider is created with a unique blend of 100% fresh-pressed Ontario apples, delicately balanced with soft cinnamon and a hint of caramel that is sure to remind you of apple pie.
The Exclusive cider and beer releases, only available at our Cider & Brew House!
The Red Door Release fridge gets its name from the original apple storage door, that still exists in the tasting bar today. The door is original to the building and today it leads you into the experience room which archives the history of the Thornbury Village Cider and Brew House.
Available for a limited time, while supplies last!
* These are past ciders that are no longer on tap
Dry Hopped Cranberry • Let's get tropical • Cranberry Cocoa Hazelnut • Honey • Elderflower •
Blood Orange Pomegranate • Red Prince • Raspberry Chocolate • Peach • Orange Chocolate Cranberry
• Orange Chocolate Cranberry
• Blood Orange Pomegranate
• Cranberry Cocoa Hazelnut
• Dry Hopped Cranberry
• Raspberry Chocolate
• Let's get tropical
• Elderflower
• Red Prince
• Honey
• Peach
Meet the Cider Master - Doug Johnson
Nothing pleases Doug Johnson more than positive response to Thornbury Premium Cider. And why wouldn't it? He's the Head Cider Master at Thornbury Village Cider House & Brewery. He set out to craft a light, easy to drink, champagne style cider with just a very slight hint of apple. And he's succeeded. From first time cider drinkers to cider aficionados, Thornbury Cider is being enjoyed by all types of people and a wide-range of taste buds. It's universal appeal projects into a very bright future.
With a background in biochemistry and over 30 years of experience in various types of fermentation and apple processing, Doug Johnson brings a wealth of experience and expertise to Thornbury Village Cider House & Brewery.
He's also proud of the fact that Thornbury Cider is produced in Thornbury, Ontario. Thornbury Village is in the heart of Ontario Apple country with a base of knowledgeable, experienced apple growers. The cider house couldn't be in a better place.
And for the record, Doug prefers his Thornbury Premium Cider over a mound of ice.
Thank you to all our customers, friends and colleagues who continue to help us exceed expectations
2017 1ST PLACE
Common Cider: Premium Apple Cider
2017 3RD PLACE
Specialty Cider: Premium Apple & Cranberry Cider
2017 GOLD
Modern Cider - Sweet: Premium Apple Cider
2017 BRONZE
Fruit Cider: Cranberry Apple Cider
2017 BRONZE
Modern Cider – Sweet: Premium Apple Cider – Gold
2017 GOLD
New World Cider: Premium Apple Cider
2017 GOLD
Cider: Premium Apple Cider
2017 GOLD
Best Dry Cider: Premium Apple Cider
2017 GOLD
Best Cider with Fruit: Premium Apple Cider
2017 GOLD
Royal's Best: Cranberry Apple Cider
2017 SILVER
Best Best Barrel-aged Sour, Hopped or Other Cider: Spiced Apple Cider
2018 SILVER
Modern Cider – Sweet: Premium Apple Cider
2018 SILVER
Fruit Cider: Cranberry Apple Cider
2018 SILVER
Canada's Best Flavoured Cider: Wild Blueberry Elderflower Apple Cider
2019 SILVER
Modern Cider – Sweet : Premium Apple Cider
2019 SILVER
Fruit Cider: Cranberry Apple Cider
2019 SILVER
Specialty Cider and Perry: Rosé Apple Cider & Wild Blueberry Elderflower Apple Cider
2019 3RD PLACE
Common Cider: Premium Apple
2019 3RD PLACE
Specialty Cider: Raspberry Cider
2020 2ND PLACE
Specialty Cider: Cranberry Apple